Asparagus Recipes
Tried, tested and truly tasty!
Asparagus soup recipe
l lb of Mazak Farms organic asparagus
2 cups chicken broth
1 shallot, chopped
3 tbsp butter
3 tbsp flour
2 cups milk
Wash and cut asparagus in pieces. Reserve a few slender tips for garnish.
Cook asparagus and shallot in chicken broth until tender. Puree mixture in blender. Set aside.
Melt butter in a sauce pan, add flour and milk to create a white sauce.
Add the puree to the white sauce, mix well.
Enjoy!
Asparagus orzo salad recipe
12 oz. orzo
1 bunch fresh Mazak Farms organic asparagus, cut into 1-inch pieces
1 pint grape or cherry tomatoes, halved
1 lemon, zested and juiced
4 Tbs. extra virgin olive oil
1 clove Mazak Farms organic garlic, minced
2 Tbs. fresh parsley, minced
Kosher salt
Fresh ground pepper
Grated Parmigiano Reggiano
Bring 2 large pots of water to boil.  Add a big pinch of salt in each.
To one pot, add asparagus and blanch, about 2 to 3 minutes, depending on the thickness of your asparagus.  Place blanched asparagus in a bowl of ice water to stop the cooking and keep them green.
To the second pot, add the orzo.  Cook per package instructions.  When tender, drain and place in a large bowl.  Add blanched asparagus and tomato halves.
Mix olive oil, lemon zest, lemon juice, garlic, salt and pepper in a small bowl.  Stir into orzo and vegetables.  Stir in parsley and grated Parmigiano Reggiano.
This can be served warm, room temperature or cold.
Source: www.abigmouthful.com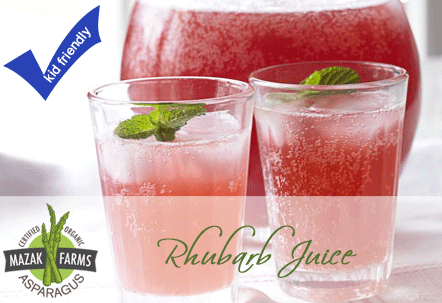 Rhubarb juice recipe
Ingredients
8 stalks rhubarb, chopped
8 cups water
1/3 cup sugar (or sugar substitue such as stevia), or to taste
Directions
In a large saucepan, combine rhubarb and 8 cups water; bring to a boil, and simmer for 1 hour. Strain the liquid, add sugar to taste, stirring to dissolve, and allow to cool.   We freeze this juice in mason jars and drink it all winter.  The children love it!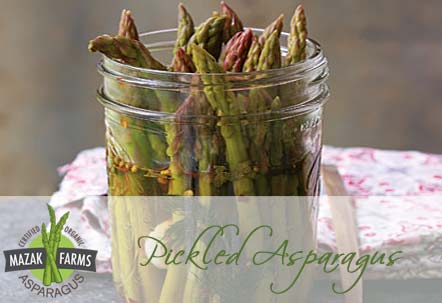 Pickled aspargus recipe
Ingredients
6 pounds asparagus
5 cups white vinegar
5 cups cup water
5 teaspoons pickling salt
6 teaspoons fresh dill, chopped
6 teaspoons mustard seeds
6 cloves garlic, peeled
Instructions
Fill canning pot with enough water to cover jars with 1 inch of water and bring to a boil on stove top.
Sterilize jars in dishwasher or on stove top. Place the lids in a small saucepan and cover in water. Bring to a boil and then turn heat to low and let sit.
Trim asparagus to fit the jar. Cut them short enough that when they rest in the jar there is about 3/4 inch to the rim.
Pour water, vinegar, and salt into a saucepan, bring to a boil.
Fill each jar with 1 tsp mustard seed, 1 tsp fresh dill chopped, 1 clove garlic whole or chopped. Then pack the jars with asparagus.
Pour the boiling vinegar solution into the jars leaving a 1/2 inch head space. Use a clean rag to wipe the rip of each jar. Lift a lid from the hot water. Place the lid on the top of a jar. Place a band over the lid and screw down with your fingertips. Repeat with the rest of the jars.
Lower the full jars into the boiling water bath. The water will temporarily stop boiling as you add the jars. Wait until the water is boiling and then set a timer for 10 minutes. After ten minutes of boiling, lift the jars from the boiling water. Let cool on the counter.
Open in six weeks
Pickled asparagus makes for a fantastic garnish in a ceasar!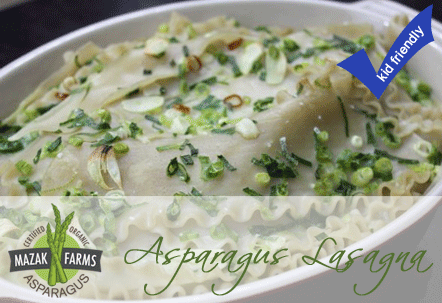 Asparagus lasagna recipe
1lb of Mazak Farms organic green asparagus
3 tbsp margarine
5 cloves of Mazak Farmss organic garlic, minced
1 medium onion (or substitue shallots), chopped
3 tbsp flour (we like to use whole wheat flour)
3 cups milk
2 cups of ham (cooked)
2 cups mozzarella cheese
1/2 cup parmesam cheese
9 cooked lasagna noodles
Prepare asparagus by snaping off ends, and washing.  Cook asparagus (either by blanching or steaming) slightly. Set aside. Asparagus will continue to cook in the oven.
Melt margarine in sauce pan.  Sautee garlic and onion until soft. Add flour.  Slowly add milk to make a roux.  Watching carefully, allow roux to come to a gentle boil, stirring constantly.
Grease lasanga pan, and begin to layer your meal.  Begin with a small amount of roux to coat the bottom, followed by a layer of noodles.  Place a layer of roux, then asparagus, then ham and sprinkle with mozzarella and parm.  Continue until you have 3 layers of noodles.  Finish your dish with a layer of sause and use some asparagus to garnish.
We discovered a version of this recipie during the 2011 growing season, and made sure to fill our freezer with asparagus so we could make this dish all winter long.  It is our family's favourite! The our kids LOVE it, and yours will too!
Asparagus drop cookies recipe
    1 cup grated Mazak Farms organic asparagus (large, fat stalks work best)
    1 tsp baking soda
    1 cup sugar
    1 cup butter
    1 egg, beaten
    2 cups flour
    1 tsp cinnamon
    1/2 tsp EACH of cloves, nutmeg and salt
    1 cup chopped nuts
    1 cup raisins
Beat together the asparagus, baking soda, sugar and shortening. Add the egg. Beat well. Sift in flour and spices. Add all remaining dry ingredients, mix well.
Drop by teaspoon onto greased cookie sheet. Bake at 375 for 12 to 15 minutes.
Makes 3 dozen cookies.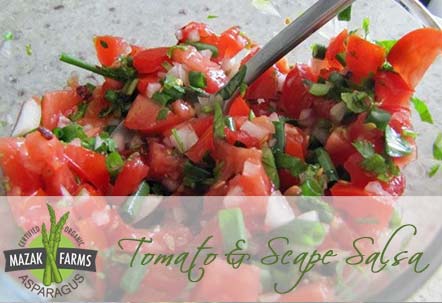 Tomato & scape salsa recipe
Ingredients
2 medium-sized tomatoes, chopped
1 garlic scape, diced
1 scallion, diced
1/4 cup diced red or white onion
2-3 tablespoons cilantro
2 mint leaves, chopped very finely
1/2 teaspoon sea salt
1/2 teaspoon dried chiles or 1/2 fresh jalapeño (optional)
Directions
In a bowl, combine all of the ingredients and stir. Serves 4.